Marley (Trio): Visit at Petsmart's Web Page
Domestic Short Hair / Mixed (short coat) : : Female : : Young : : Medium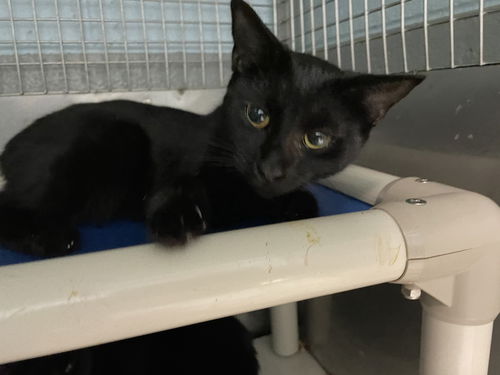 Located in Campbell County, Virginia. Please begin with an application, found here: www.friendsofcampbellcounty.org. We place calls to your vet, your landlord, and your personal reference. We ask that the pets in your home be current with rabies vaccines, spay/neutered, and seen by a veterinarian for wellness.
About Marley (Trio): Visit at Petsmart

Status: Available for Adoption (adoption info)
Species: Cat
General Color: Black
Current Size: 7 Pounds
Current Age: 1 Year (best estimate)

Declawed: No
Grooming Needs: Low
Shedding Amount: Moderate
One of three special cats signed over to the shelter, due to their owner's change in residence, and inability to care for his felines. The TRIO includes Gabriela, Apple, and Marley! They are quiet, easy, and non-demanding cats, familiar with young children.
PLEASE NOTE: This pet has been posted by Friends of Campbell County Animal Control, Rustburg, VA. For questions about the pet, please email us at FOACinfo@gmail.com. All adoptions begin with an application, found under the "Animals" tab on our website, friendsofcampbellcounty.org. *Unaltered babies under the age of six months can be adopted only to residents of Campbell County, the City of Lynchburg, and counties touching Campbell County. *Unaltered adult pets six months or older will need to be sterilized before they can be adopted outside our local area of Campbell County, the City of Lynchburg, or counties touching Campbell. *We do not promote dog adoptions to homes where an invisible fence is the fencing of choice. *We do not permit cats or kittens to be declawed following adoption.
Our process begins with an application, found on our website, www.friendsofcampbellcounty.org. Once your application has been received, a volunteer will call the references you list and then will contact you.